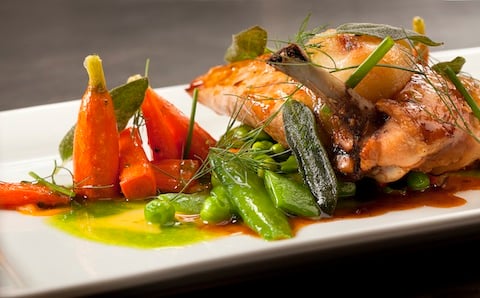 Low FODMAP Dinner- Sweet & sour chicken:
Sweet, sour, AND low FODMAP. This meal checks all of the boxes for a yummy, satisfying dinner. The best part about it is that you can keep this as-is or add some more low FODMAP vegetables for an extra boost of nutrients! This recipe is sure to satisfy a craving for takeout.'
Low FODMAP Dinner- Greek rice casserole:
There's something so comforting about a classic rice casserole. The perfect dish for any season, this Greek rice casserole combines the comfort of casserole with the crisp freshness of veggies and herbs.
Low FODMAP Dinner- Barbecue lamb skewers with yogurt sauce:
Looking for a grill recipe that won't make you miss the summer BBQ because your IBS is acting up? These barbecue lamb skewers are the perfect addition to any cook out. You'll get a yummy, complete meal without all of the uncomfortable side-effects of high FODMAP foods.
Low FODMAP Dinner- Beef stew:
Grab your comfiest pajamas and get ready to curl up by the fire because this beef stew is the PERFECT recipe for a cold winter Sunday. Simply throw all of the ingredients in a slow cooker and come back at the end of the day to a perfectly cooked, low FODMAP dinner!
Low FODMAP Dinner- Chicken cacciatore:
Nothing brings me back to my childhood like the smell of a home-cooked chicken cacciatore. My grandmother used to make this classic Italian dish at least once a month. Thankfully, we have found a low FODMAP alternative to this yummy, protein-packed dish!
Low FODMAP Dinner- Roasted red pepper pasta:
All of the decadent deliciousness of pasta with cream sauce, without all of the GI discomfort! This dish is sure to please any pasta lover. For a little extra boost of nutrients or protein, throw some low FODMAP vegetables or chicken in there.
Have you joined our IBS Support Group yet? Led by Kaitlyn Willwerth MS, RD, use this Q&A group as a forum to learn from experts and support the community.
Related Posts